!–- Yandex.Metrika counter -–> <!–- /Yandex.Metrika counter -–> <!–- Global site tag (gtag.js) - Google Analytics -–>
Обсерватория культуры
2588-0047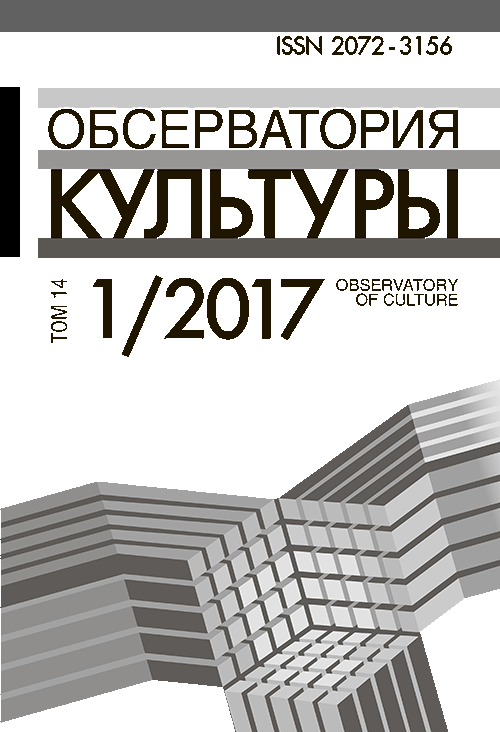 Publisher Russian State Library
Country Россия
Content
Arts socializing functions and museum pedagogy
Selezneva E.
Attendant-artist - Marianna Verevkina
Kagarlitskaya S.
A year as a century: experience of cultural chronography
Savitskaya T.
Chaldean Oven in Moscow
Smorgunova E.
Culturology: Course program for "non profile" students
Stepanov B.
Experience of country estates preservation and its usage in Great Britain
Krasnobaev I.
Fedor Stepun: the first years in the immigration
Gergilov R.
German view on Russian laugh
Dezhurov A.
Interaction of Russia peoples' musical cultures
Kayak A.
Kenozer national park: recreation potential and the main forms of usage
Arsenyeva E.
Lithuanian echo of 20th century European theatre philosophy searching: Juozas Miltinis' theatre
Azeeva I.
Modern TV games as social phenomenon
Novikova A.
Mystery of Heraldic Bowl's from the collection of Moscow Kremlin's Armoury Chamber
Murzin-Gundorov V.
Organization: social and cultural dynamics
Savina I.
Principles of predetermination of cultural knowledge normative
Vayzer T.
Problems of studying and preservation of Russian manor as exemplified by Voronezh region manors
Krieger L.
Russian university - face to face with forced episteme of new globalism
Ivakhnenko E.
Russia's animated films
Zorina T.
Self education as 21st century's paradigm in the context of educational technologies for culturologist training
Zhukova E.
Strategy in the context of geo culture: setting of the problem
Musalevskaya I.
Theoretical foundation for social interaction studying
Orlova H.
TV and information challenge of terrorism
Petukhov V.
Vasilkovsky's phenomenon: architect, graphic and ceramics artist
Tkachenko N.
АРХИТЕКТОР КРИВЫХ И АВТОР БОЛЬШИХ ДВОРЦОВ: ОСКАРУ НИМЕЙЕРУ 100 ЛЕТ
//= __( 'Unfortunately, we have no right to provide any kind of access to this resource in the territory of Western Europe. In any case, we will process your request and contact you with possible variants of solution.', // 'eposlink'); ?>