!–- Yandex.Metrika counter -–> <!–- /Yandex.Metrika counter -–> <!–- Global site tag (gtag.js) - Google Analytics -–>
ВОПРОСЫ ЯЗЫКОЗНАНИЯ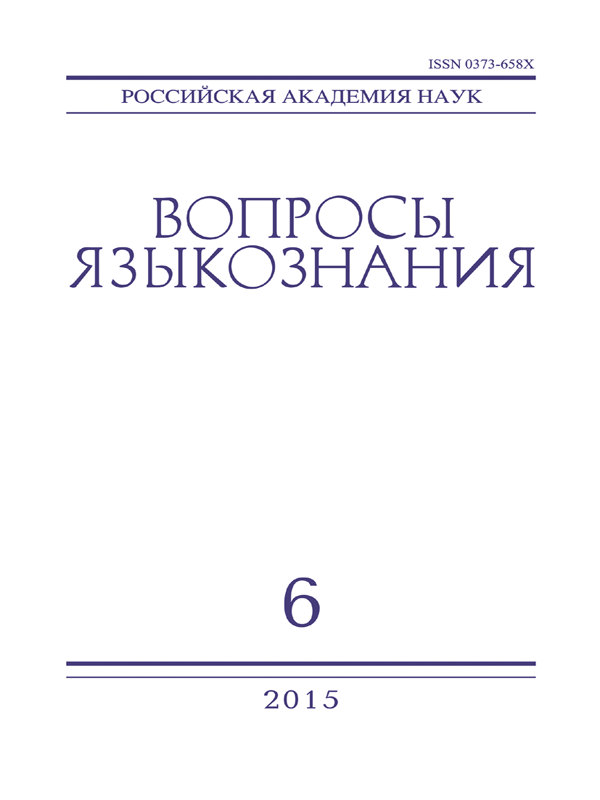 Publisher Федеральное государственное унитарное предприятие Академический научно-издательский, производственно-полиграфический и книгораспространительский центр Наука
Country Россия
Content
A hundred years after. Do forecasts come true?
Alpatov V.M.
A. Queffelec, Y. Derradji, V. Debov, D. Smaali-Dekdouk. Y. Cherrad-Benchefra. Le francais en Algegie. Lexique et dynamique des langues
Klokov V.T.
Connotative onyms and their derivatives in a historical-etymological dictionary of Russian
Otin E.S.
E.V. Petruxina. Aspect categories of the verb in Russian in comparison with Czech, Slovak, Polish and Bulgarian
Guiraud-Web e r M.
In memory of the outstanding Czech scientist Milos Dokulil
Nescimenko G.P.
N.A. Yanko-Trinitskaja. Word-formation in contemporary Russian
Golanova E.I.
On the types of combinability of metaphorical models
В aranov A.N.
The category of taxis (general characteristics);
Xrakovskij V.S.
The oldest Cyryllic alphabet
Zaliznjak A.A.
The tonal systems of the mande languages. A short survey
Vydrin V.F.
V. Po-tapov. Dynamik und Statik des sprachlichen Rhythmus
Zuravlev V.K.
ХРОНИКАЛЬНЫЕ ЗАМЕТКИ
//= __( 'Unfortunately, we have no right to provide any kind of access to this resource in the territory of Western Europe. In any case, we will process your request and contact you with possible variants of solution.', // 'eposlink'); ?>