!–- Yandex.Metrika counter -–> <!–- /Yandex.Metrika counter -–> <!–- Global site tag (gtag.js) - Google Analytics -–>
ВОПРОСЫ ЯЗЫКОЗНАНИЯ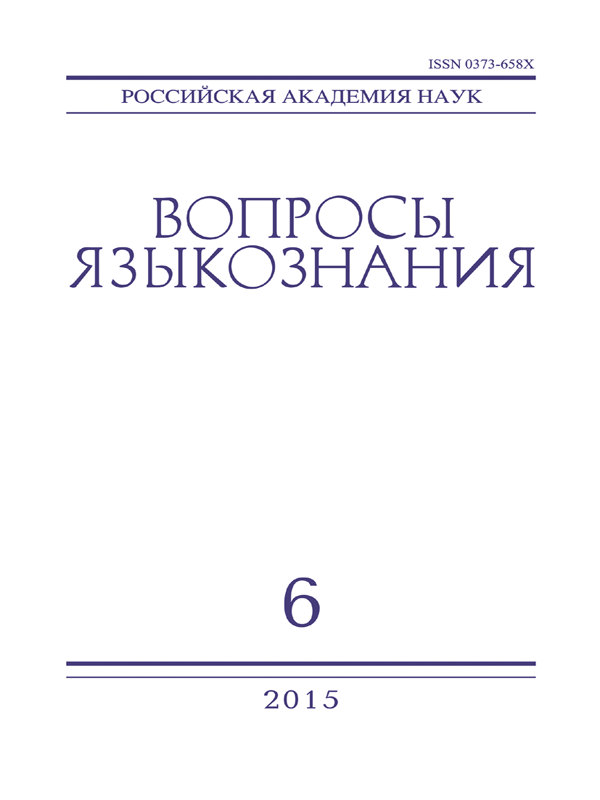 Publisher Федеральное государственное унитарное предприятие Академический научно-издательский, производственно-полиграфический и книгораспространительский центр Наука
Country Россия
Content
Etymology of Finno-Ugric loans in Russian and the semantic analysis
Teus O.A.
Geographic names and toponymic etymologies (based on the material of toponymics of the Russian North)
Silov A.L.
Historical and etymological lexicography: some thoughts of a lexicographer
Bogatova G.A.
In memory of Oleg Nikolaevič Trubačev
Toporov V.N.
Oleg Nikolaeviç Trubaçev
Dobrodomov I.G.
Oleg Nikolaeviç Trubaçev and our generation
Çernyseva V.I.
On the etymology of sub-strat toponyms with
Matveev A.K.
Some observations on the language and text of an archaic language monument: "The Book of Eliah"
Veresçagin E.M.
The Indo-European roots
Levitskij V.V.
The rise of the perfect in Latin and the origin of the element
Xodorkovskaja Ç.Ç.
The role of books in my life
Trubaçev O.N.
The role of the library in the life of O.N. Trubaçev
Bogatova G.A.
The Slavic metathesis of liquids and the desintegration of Proto-Slavic
Schuster-Schewc H.
B.H. BICHAKJIAN. LANGUAGE IN A DARWINIAN PERSPECTIVE
НИКОЛАЕВА Т.М.
//= __( 'Unfortunately, we have no right to provide any kind of access to this resource in the territory of Western Europe. In any case, we will process your request and contact you with possible variants of solution.', // 'eposlink'); ?>